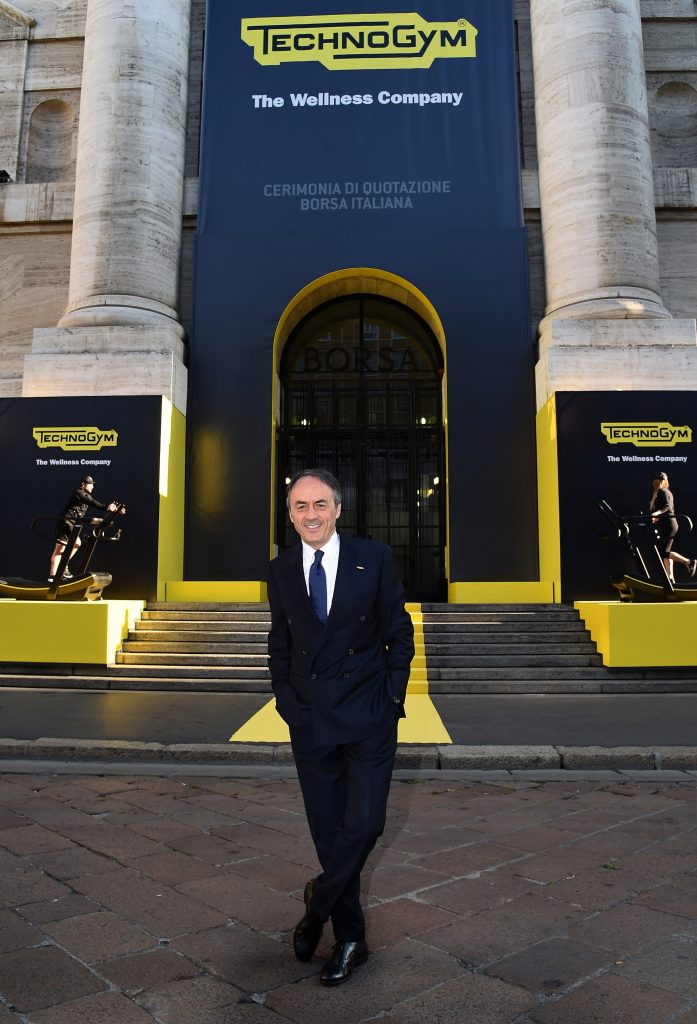 A rejection and an intuition. This is what started the adventure of Nerio Alessandri, the Italian entrepreneur who, with Technogym, invented a new way of understanding movement. He then raised the bar by devising a paradigm of well-being and self-care, starting with the creation of the Wellness Valley, a district devoted to well-being and sustainability.
Romagna's Steve Jobs
Born and raised in Gatteo, in the province of Forlì, the son of a foreman and labourer, he studied as an industrial mechanic and immediately after leaving school he he started working at Roda, a local company that manufactured fruit and vegetable packaging equipment. Here he learned how to develop a product from the design stage and met some of his future suppliers.
However, the young Nerio had another dream: to become a designer for one of the major Italian companies in the '80s. "I wrote to Giorgio Armani to arrange a meeting. He didn't reply. I threw myself body and soul into my business precisely because of that rejection." His purely entrepreneurial vocation was fired up before that blind alley.
Thousands of miles away he was doing in Romagna what Steve Jobs was doing at the same time in computer science, in the heart of Silicon Valley: he identified a sector (sports equipment) that was still backward and destined for professionals and introduced innovation and design, not limiting himself to expanding its market, but inventing a new one instead.
"Aged 22 I was a young industrial designer with a great passion for sport. I joined a gym in Cesena and realized that it only contained basic equipment. Weights, benches and little else. I immediately saw an opportunity to create something new, to innovate by designing equipment that was safer and easier to use. So in the evenings, on weekends and in my free time I designed and built my first machine in my garage."
Above all he wanted the equipment to be enjoyable, but also to support the shape of the human body and to minimize the load on users' backs. During the weekends in his father's garage he made the "hack squat", the first machine by Technogym (which was not established as a company until 1983).
The test carried out in his gym in Cesena boded well, so he produced 150 copies of the prototype.
From fitness to wellness
His parents feared that the initial success would soon fade, since fitness businesses simply did not exist at the time. Alessandri saw abundant possibilities in this risk. He left his job at Roda and rented the company's first headquarters: a small warehouse in Gambettola where he began production with some neighbours and relatives. He started with 2.8 million lire without the support of lenders or partners, but he managed to sell the machines with advance payment.
Technogym exploded in two years: the plant expanded to over 2,000 sq m and the brand began to target not only fitness lovers, in other words a niche of sportsmen, but all lovers of wellness, a much broader and more inclusive group. In 1992, the "The Wellness Company" tagline was incorporated in the logo.
There are now over 32,000 centres equipped by the Nerio Alessandri company and his machines can also be found in 10,000 company gyms and 16,000 hotels and cruise ships. Including 300,000 household gyms and over 6000 schools, universities and sports associations, at least 50 million people train on Technogym machines in 100 different countries.
Together with its arrival on the Stock Exchange in 2016, in the FTSE Italia Mid Cap index, the company's appointment as the official supplier of the Olympic Games from 2000 onwards was an important milestone in its history. Financial results have been very positive: in 2017, net profit was 61.2 million (up 42% compared to just the previous year).
From wellness to sustainability
However, Alessandri has no intention of stopping here. The entrepreneur from Romagna believes that there can be no wellness without personal happiness, but also without ethics, public spirit and respect for the environment and people. In his vision, wellness must encapsulate "all the elements of sustainability", understood as "culture in relation to the local area and people" and as "respect, connection and ability to make our our businesses long-lived and our planet eternal".
With this in mind, he launched the Wellness Foundation and Wellness Valley, with a view not to individual improvement, but to global well-being that can be achieved through movement education, proper nutrition and healthy lifestyles.