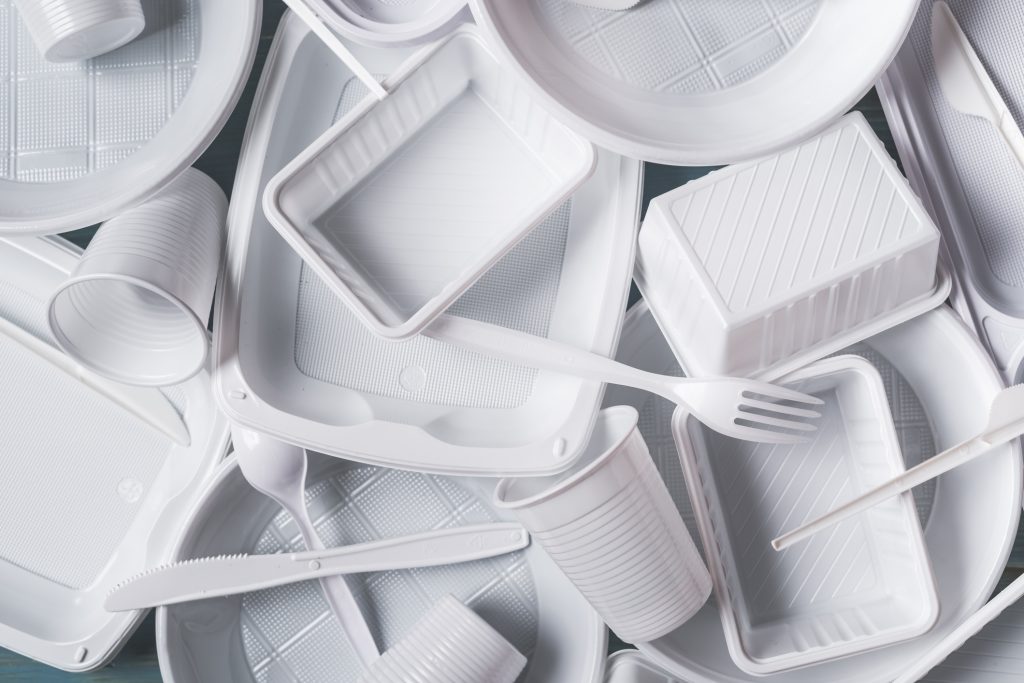 From 2021, according to the new EU Directive, all single-use plastic will disappear.
The law also states that 90% of plastic bottles must be collected by Member States by 2029. Furthermore, plastic bottles must contain at least 25% recycled material by 2025 and 30% by 2030. The new laws make it obligatory to apply labels with information on the environmental impact of cigarette filters, wet wipes, sanitary napkins and similar products. It is certainly necessary to expand research in this field in order to develop new, more environmentally friendly materials.
Bioplastics made from starch
Universities, research centres, companies and start-ups are working to develop innovative solutions for the production of eco-sustainable bioplastics. Many new materials are made from starch, a natural polymer made up of complex chains of glucose molecules. Starch is a carbohydrate – polysaccharide – present in numerous plants, such as corn, potatoes, wheat and others, all widely available in nature. Bioplastics are made, for example, from corn starch: it is strong, compostable and ideal for food use. Mater-bi or Biolice, for example, are composed of wheat and corn flour and degrade in twelve weeks.
The hemp solution
The hemp plant is increasingly used for the development of sustainable materials HempBioPlastic (HBP) is not only more efficient than other bioplastics, but also 20% lighter and 30% stronger. Hemp bioplastic filaments are ideal for 3D printing, which is used to manufacture the most diverse objects, such as glasses, vases, toys, bowls and containers. PLA is one of the first commercially produced biopolymers. It is available from different manufacturers and is versatile in terms of its possible applications, offering performance comparable to that of petrochemical polymers. Kanésis, a new bioplastic, is produced from waste biomass and hemp. There are also those derived from animals, such as milk casein, and/or other natural origins, combining multiple compostable substances.
The University of Wisconsin-Madison study
Scientists at the University of Wisconsin-Madison have started to use bacteria to assemble new materials using plant matter. Using a plant-derived solvent called GVL (gamma-valerolactone), professor of chemistry and biological engineering James Dumesic and his team have developed an economical and high-yield way to produce furandicarboxylic acid or FDCA. This is one of the 12 chemicals that the U.S. Department of Energy considers to be fundamental to the development of a "green" chemical industry. FDCA is a necessary precursor for a renewable plastic called PEF (polyethylene furanoate) as well as for a certain number of polyesters and polyurethanes. As an organic substitute for PET – its widely used petroleum-derived counterpart – PEF has enormous potential. PET currently has a market demand of around 1.5 billion tons per year and multinationals such as Coca-Cola, Ford Motors, HJ Heinz, Nike and Procter & Gamble have committed to developing a sustainable 100% plant-based PET for bottles, packaging, clothing and footwear. PEF has the potential to penetrate a substantial market, however this has been hampered by the high cost of FDCA production. It is necessary to use a lot of solvent to obtain a small amount of FDCA: this requires high separation costs and unwanted waste. The researchers' new process begins with fructose, which is converted into a two-phase FDCA process in a solvent system consisting of a GVL part and a water part. The end result is a high-performance FDCA that can be easily separated from the solvent after cooling. The use of GVL solvent solves most of the problems of FDCA production. Sugars and FDCA are both highly soluble and this results in high yields, while the solvent can be easily separated and recycled.