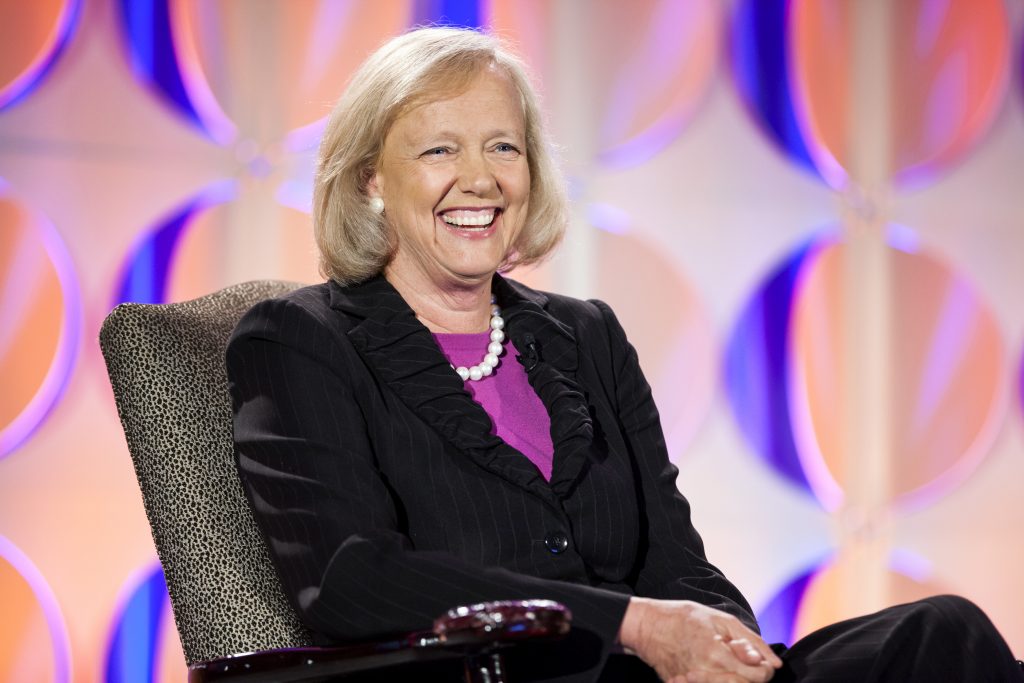 The latest of the online streaming platforms, Quibi, designed for Millennials and Generation Z, distributes video content designed for smartphones only and is led by a brilliant 63-year-old, Margaret Cushing "Meg" Whitman, who been a manager at the most important listed companies in the U.S.: from Procter & Gamble to Bain & Company, from the Walt Disney Company to Hasbro, from eBay to Hewlett-Packard. Despite being a little older than the average start-up founder, Whitman has made innovation her calling card: "We are in a period of profound digital revolution, so today all companies need to adopt tools that allow them to react to the ongoing changes," she said in 2017 during an event in Italy.
At major U.S. companies
A New York-native and Princeton graduated with an MBA from Harvard, Whitman has had an exemplary career. In the late Seventies she began to work as a brand manager for the consumer products multinational Procter & Gamble. She then moved to California to become a consultant at Bain & Company, moving up various levels in the management pyramid to become senior vice president.
In the late Eighties she changed her milieu again: in 1989 she became vice president for strategic planning of the Walt Disney Company, where she played an important role in the acquisition of the magazine Discover. She then moved to the toy company Hasbro, where she was responsible for bringing the British children's television show Teletubbies to the United States.
In 1992 she moved to Boston, where she became chairman of the children's shoe manufacturer Stride Rite. She was not afraid of moving and changing roles, nor of reinventing herself in a new industry that she had to learn over from scratch each time. Yet her boldest leap – and also her most successful one – would come when she decided to throw herself into the Web.
"Business is not based on innovation alone: to do it well you need heart, brain and vision."
Ebay, politics and Hewlett-Packard
Whitman came to eBay as chairman and CEO in 1998. At the time, what we know today as an e-commerce giant had just 30 employees and revenues of $4 million: the company still showed so little promise that at first she herself turned the position down when a headhunter offered it to her. What changed her mind was a visit to the company's headquarters and the words of its many enthusiastic users.
She prepared the company for its début on Wall Street in September 1998. She also restyled the graphics of eBay's pages. She restricted all auctions of firearms and pornographic products to separate sites subject to age limits. As she would say a few years later, "Business is not based on innovation alone: to do it well, you need heart, brain and vision. This is an enormous revolution, but in reacting the right way culture is much more important than technology." When she moved on from eBay in 2008, just ten years later, she left behind her a company with 15,000 employees and revenues of $8 billion.
In 2006 she and her husband founded the Griffith R. Harsh IV and Margaret C. Whitman Charitable Foundation, a private charitable foundation, and she sits of the boards of directors of various companies.
Politics attracted her for a brief hiatus, first as a supporter of Mitt Romney and the Republican Party, then (in 2009) as a candidate for governor of California, an experience that ended in her defeat by the Republic candidate by a margin of 13 percentage points.
After shelving her political ambitions, she went back to being a manager: in 2011 she joined the board of directors of Hewlett-Packard, and less than nine months later she became its chief executive officer after Léo Apotheker was fired. She remained in this role until early 2018, when she made a new beginning at the start-up Quibi as its founder and CEO.
"This is an enormous revolution, but in reacting the right way culture is much more important than technology."
Quibi
Launched in 2020, Quibi is a new streaming platform designed for very short videos with durations of six to nine minutes that are intended as "quick bites" to be consumed on smartphones. Jeffrey Katzenberg, former head of Disney studios and co-founder and former CEO of Dreamworks, also came up with the idea for the company together with Meg Whitman.
A number of celebrities have been involved in the project: from Jennifer Lopez to Chance the Rapper, from Idris Elba to Steven Spielberg, from Bill Murray to Sophie Turner. Many prestigious outlets will also produce mini news episodes (NBC, BBC, ESPN and more).
Katzenberg and Whitman's idea was compelling when it was first conceived in 2018, but now, in the post-Covid19 era- restrictions on movement and the massive spread of remote working risk slowing it down considerably.