10:06 am
17 September 2019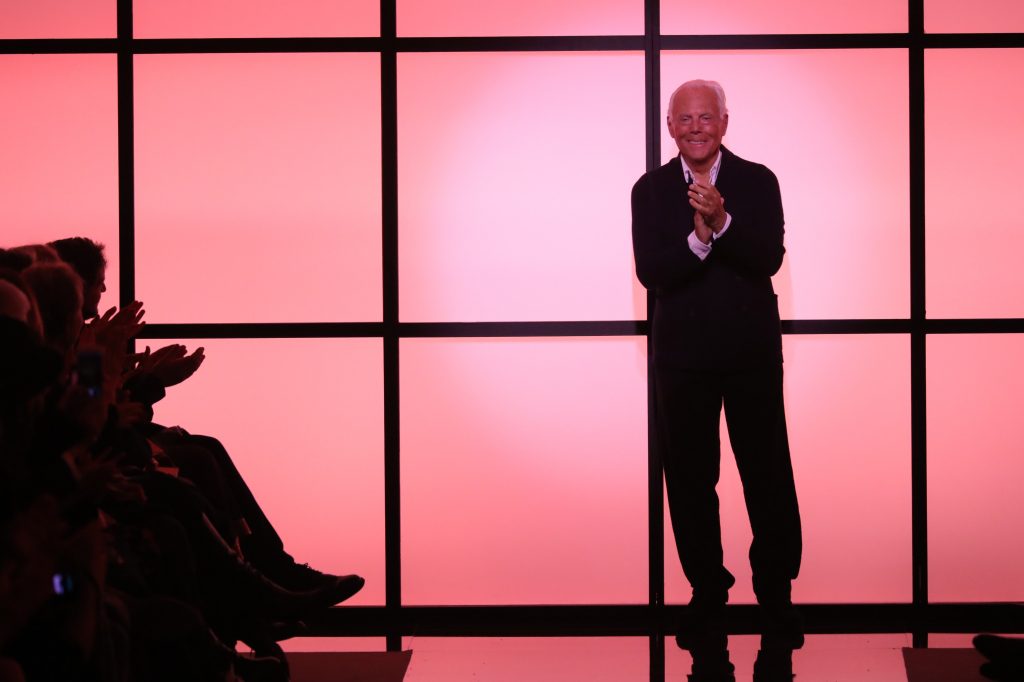 For the people of Milan, Armani means the mega-poster in Via Broletto that has displayed the face of the fashion house since 1984, for fans of the tailored cut, it is the inventor of the destructured jacket, for the whole world, it is one of the most prestigious and iconic Italian brands. King Giorgio secured a permanent place in the history of fashion by following a single rule for more than 40 years: "The law of luxury is not to add but take away."
From shop windows to the catwalks
He was born in Piacenza in 1934 to a normal family, with a father who was a clerk, a sister and a brother. In 1949, he moved with his parents to Milan and here, in 1953, he gained his diploma at the Leonardo da Vinci science-based high school. He began to study Medicine but, after three years, he had to leave the faculty to perform military service. When he returned to civilian life, he felt that he had fallen behind and had no profession. In 1957, he tried knocking on the door of the Rinascente chain of stores and, thanks to photographs taken of his sister Rosanna, he was chosen as a window dresser and then as a clothing buyer.
His real work as a stylist began in 1965 when he joined Nino Cerruti's Hitman. His first job was designing a new type of jacket that was both comfortable and elegant. In the following five years he managed to work successfully as a freelance for other companies and for female fashion, also winning a place on the Florentine catwalk of Palazzo Pitti. In 1974, with the Armani by Sicons line, he used his name for the first time to sign a collection and, at that point, decided to create his own personal brand. This he did a year later with the encouragement and support of his working partner and life companion Sergio Galeotti (who died prematurely only 10 years later).
Giorgio Armani S.p.A. was founded in 1975 with share capital of 10 million lire which, according to some commentators, came from the sale of the Volkswagen used by the stylist. He would say of that time: "We all did a bit of everything: the administrator sealed the cardboard boxes that contained the clothes to be shipped, the designer's assistant did the photocopying, the secretary received the requests. In 1976, the revenues amounted to 569 million lire, not a huge amount but it seemed a lot to us, we had started from nothing the year before." Today, his fortune is estimated at 10.4 billion dollars and he occupies position number 173 on Forbes' rich list.
The coronation and the hardest test
Success with a capital S came almost at once and never stopped. Giorgio himself remembered that time: "It was in 1979 that I won the Neiman Marcus Award in New York. At the same time, Saks Fifth Avenue organised a trunk show of my collection. What was supposed to be a small private fashion show for a limited group of loyal clients was transformed into an event that was repeated for several days. It was the start of my success."
A success that revolved around his totally innovative idea of a jacket: thinking about those who would wear it, Armani took it apart, removed the structure made of padding and underlining, changed the proportions, attached buttons in a different way and copied the strict, geometric collars from the east. "I made a kind of relaxing, informal and less severe jacket that allowed the body and its sensuality to be perceived."
In 1981, he opened the first Emporio Armani in Milan, a casual clothing store with low prices, in denim, in the heart of the luxury shopping district. He had his critics but in a very short time his low-cost jeans with the eagle logo were coveted by everyone. "Time" magazine (it was 1982) put him on the cover as Man of the Year.
The hardest test came soon after: Sergio Gallotti died in 1985 and Armani faltered, forced to take control of the company and discover the all-round entrepreneur within himself. "It was very hard," he confided, many years later. "No one thought that I could do it, starting with my family. Many predicted that I would collapse psychologically." But, in the following six years, the company's turnover tripled.
The secret of diversification
Cosmetics, spectacles, furniture and design, restaurants and hotels, flowers, music, sport and art. There was no sector into which Giorgio did want to cast a seed, applying one of the cardinal principles of the business.
Shy to the point of timidity, he preferred to appear through important collaborations with Hollywood and major sport. Richard Gere in American Gigolò, Leonardo Di Caprio in The Wolf of Wall Street, Tom Cruise in Mission Impossible: Ghost Protocol, Christian Bale in The Dark Knight: the stars of the big screen wear his creations. In 1999, he produced Martin Scorsese's documentary on Italian cinema, My Voyage to Italy.
He designed the uniforms of many football clubs (from Piacenza Football Club 1919 to Chelsea and the English national team) and the Italian delegation to the Olympic Games (in 2014, 2016 and 2018) but found his true calling in basketball. The first sponsor of the Olimpia Milano basketball team, he became its owner in 2008.
To celebrate 40 years in the business, Armani took over a former Nestlé grain warehouse in Milan, in Via Bergognone, and opened a museum. "I decided to call it Silos because grain was stored there, sustenance for living. Because, like food, clothing is also necessary for living," he recalled. On the four floors, a selection of outfits from 1980 to today leads to the discovery of his world and takes its place alongside temporary exhibitions. Order, rationality, refinement of the forms: garments and architecture observe the same rules and combine to tell the story of a would-be doctor who became the king of fashion.