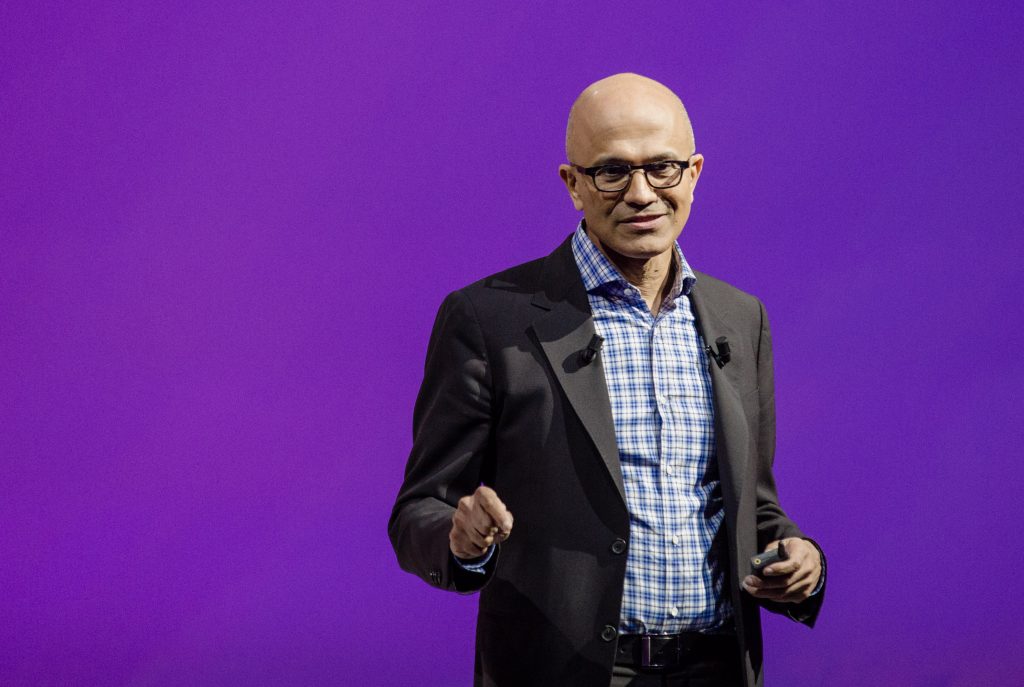 "I am 46. I've been married for 22 years and we have 3 kids. Many who know me say I am also defined by my curiosity and thirst for learning. I buy more books than I can finish. I sign up for more online courses than I can complete. I fundamentally believe that if you are not learning new things, you stop doing great and useful things. So family, curiosity and hunger for knowledge all define me."
That was how Satya Narayana Nadella introduced himself when he was appointed as CEO of Microsoft in 2014. Since then, he has established himself as a different kind of leader, setting a new example for companies in Silicon Valley and all over the world.
Determination and alliances
Born in the Indian city of Hyderabad to a civil servant father and Sanskrit teacher mother in 1967, Nadella spent years attempting to become a professional cricketer – until his heart was stolen by the world of science and technology. After gaining a degree in Electrical Engineering in India, Nadella moved to the USA to study for a Master's in Computer Science at the University of Wisconsin. He spent time working at the prestigious server company Sun Microsystems before joining Microsoft in 1992. True to the insatiable love of learning revealed above, he studied for an MBA while working full-time at Microsoft, commuting between the company's base in Redmond, Washington and the University of Chicago.
"His dedication always astonished me," said former colleague Sanjay Parthasarathy of Nadella's work during this period. Indeed, without it Nadella would never have been able to work his way up from the very bottom to the most senior roles at Microsoft.
When Nadella was offered the CEO position by Bill Gates and Steve Ballmer after the Windows 8 disaster, shares in Microsoft were worth $40. Now, they are worth $160. Nadella showed great foresight in deciding to move on from operating systems and focus entirely on cloud services, sensing that data would soon become the most valuable commodity of our time and realising that collaborating with other companies was no longer the taboo it once had been.
In order to make Microsoft's software and services available immediately and everywhere, Nadella made bold decisions that were unthinkable for rivals like Apple – such as the adoption of rival open source Linux and making Office and Outlook available on iPads, iPhone and Android devices. At an official Microsoft event in 2015, he even presented Microsoft apps by showing his own iPhone to a shocked crowd.
Nadella didn't shy away from making strategic acquisitions either, such as those of LinkedIn and Mojang, the company that created the record-breaking videogame Minecraft.
Coding, poetry and listening
Nadella doesn't fit the stereotype of the anti-social nerd obsessed with programming and numbers. "You're trying to take something that can be described in many, many sentences and pages of prose, but you can convert it into a couple lines of poetry and you still get the essence, so it's that compression. The best code is poetry," he once told Politico.
He's not the classic top-down, authoritarian leader either. Nadella has kept his boyish grin, and – perhaps drawing strength from the pressures of caring for his disabled son – has been able to triple Microsoft's market capitalisation (from $302.2 billion to over €1 trillion). And all this has been achieved through an approach founded on the importance of interpersonal relations. "Without empathy it is not possible to get the best from your team, so for this reason it is the key to everything," he once said.
In the corridors of the Microsoft complex in Redmond, Nadella's mantra of "listen more, talk less and be decisive when the time comes" caught on quickly. Nadella is a big fan of taking action – and he believes that complaining, especially when you're in a senior position, is unacceptable: "Leadership does not mean opposing obstacles but overcoming them, guiding the entire team."