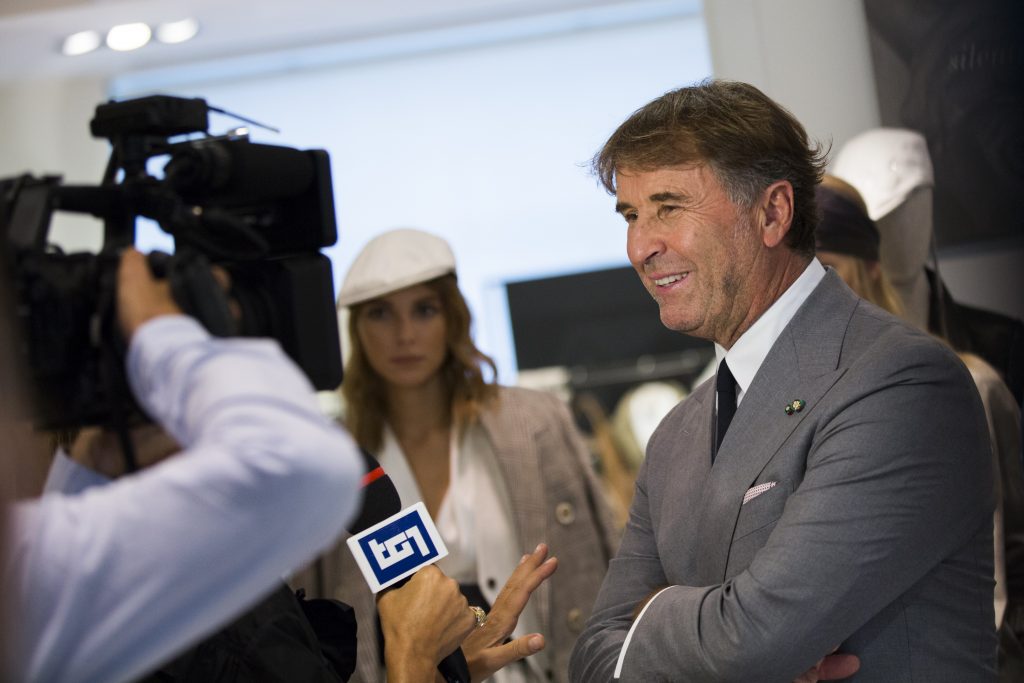 Brunello Cucinelli might be known as the king of cashmere, but his entrepreneurial success is more down to his humanistic approach to business than the quality of his knitwear. For instance, when he decided to list the company on the stock exchange, he explained that the move would ensure "healthy, gentle, sustainable growth" – a remark that made his business outlook famous all over the world.
The beginnings
The group was set up in the mid-1970s, at which point Cucinelli was studying engineering – in an attempt to make his parents proud and reassure them about his future. "Like all parents, they were familiar with work in the fields and then in the factories – my father's dream was for me to get a degree so I wouldn't have to toil like he did," explains Cucinelli.
However, technical design and complex calculations weren't quite what destiny had in store for him. After abandoning his studies, he started to follow his own dream of using cashmere to create pieces of colour and originality. At the time, the material was only used for expensive British sweaters, either smooth or cable-knit, and only ever produced in grey, blue or beige.
It was in 1978 that Cucinelli opened his first workshop in Ellera di Corciano, near Perugia. He made fresh, vibrant women's pullovers – and the first 50 flew off the shelves. Quickly, he began to look to overseas markets, particularly Germany and the United States: countries with highly stable economies that loved fine Italian goods. Fast-forward to 2018 and the group now employs over 1,600 people and is registering net profits of €553 million, over 90% of which is generated abroad.
Philosophy and a human business vision
Cucinelli has never been a big name in the lifestyle columns or talk shows. But he did end up in the media spotlight when we revealed that he takes it upon himself to pay his workers 20% more than their contracts stipulate. He believes that "too much finance kills industry" and that "sometimes great managers are the worst people because they have no humanity". In keeping with these beliefs, Cucinelli considers himself to be more of a custodian of his company than an owner – his workers, for example, have keys to the factory and aren't required to clock in.
Cucinelli's favourite quote is by Socrates and when he does give rare interviews and make company appearances, he speaks of Alexander the Great and Aristotle with the kind of unbridled enthusiasm that you just wouldn't expect from one of capitalism's success stories. "I'm a businessman until six o'clock and then I shut up shop and go home like my workers," he says. "Quality of life is important for everyone. I don't watch television, so I have time to read, and I'm a rigorous person – I belong to the Benedictines. You can't live well unless you are spiritual. Sixty percent of humanity takes sleeping pills. It's absurd."
Business to benefit the local area
Appearing at the Global Economy Prize at the Kiel Institute for the World Economy in 2017, Cucinelli spoke of his deep bond with his native Umbria and the work he does to help a region steeped in history and beauty. "The biggest dream I have in life has always been to work to support the moral and economic dignity of human beings," he said. "Of course I wanted the company to make a profit, but to do so while upholding ethics, dignity and morals, creating garments that caused no damage – or as little as possible – to the world. I live and work with my family in a small Umbrian village dating back to the 1300s. It's called Solomeo – my wife was born there. I listen to the spirit for the place and take heed from the word of the masters, and that's how I've been able to undertake a restoration project stretching back 30 years, in an attempt to realise my dream of being a temporary custodian. My dream is inspired by that of Hadrian, who said: 'I feel responsible for all that's beautiful in the world.'."
With the restoration work in the small village of Solomeo and its surrounding area now completed, the place has been dubbed a "Borgo dello Spirito" [Spirit Village]. The Brunello e Federica Cucinelli Foundation has also designed a Theatre (a layman's temple to art), the Monument, dedicated to the dignity of man, and the "Cellar", which is designed to respect the dignity of the Earth. And after Norcia was destroyed by an earthquake on 26 October 2016, Cucinelli committed to restoring the San Benedetto Monastery and the village tower.