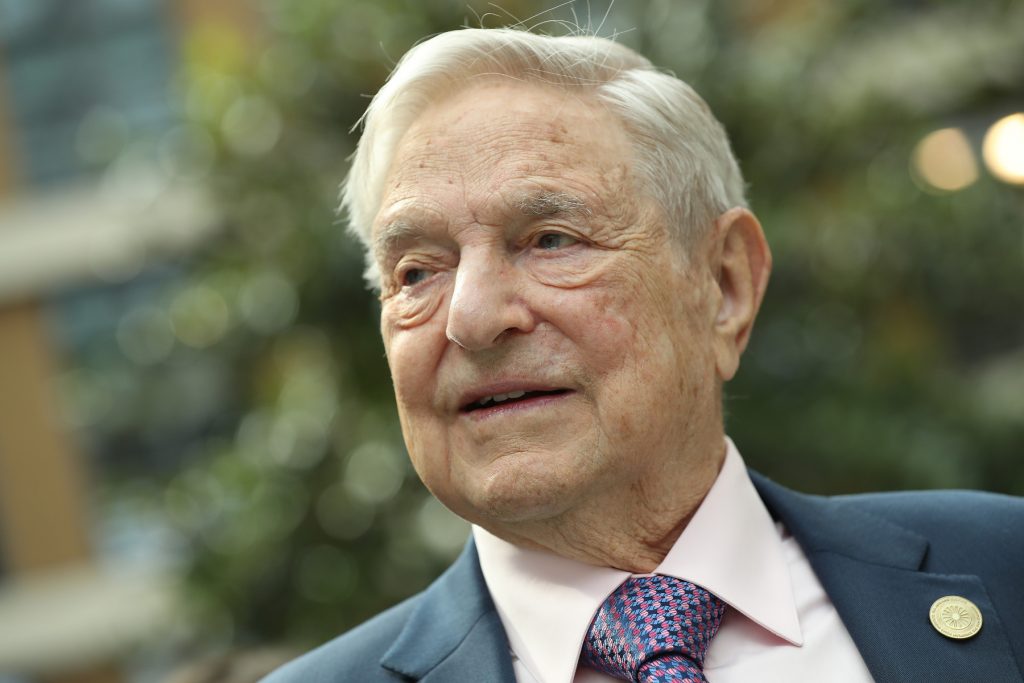 Elected "Person of the year 2018" by the Financial Times, the Hungarian naturalised American 88 year old billionaire philanthropist George Soros was awarded not only for his deep humanitarian commitment, but above all for what he represents. The FT explains how Soros is "a defender of liberal democracy and an open society".
But who is George Soros? His family abandoned the Jewish surname Schwartz to escape Nazi persecution, rebaptising itself Soros, a palindrome meaning "next in line" in Hungarian, and "he will grow" in Esperanto. Indeed, his personal fortune as estimated by Forbes grew over the years, peaking at 25.2 billion dollars (the current figure stands at 8.3 billion), making him one of the thirty richest men in the world, as well as one of the most controversial magnates ever. Today the 88 year old is President of investment funds like the Quantum Fund and Open Society Foundations (Osf), a grantmaking network which funds social projects for the development and protection of human rights.
From philosophy to investment funds, via tourist souvenirs
The Soros family fled from pro-Soviet Hungary in 1947. In London, George enrolled at the London School of Economics: he studied with Karl Popper while working part-time work as a railway porter and waiter. The great philosopher touched him profoundly, inspiring Soros to create his very own foundation, Open Society, which endeavours to spread the open society model theorised by Popper, to the greatest possible extent.
Life was far from easy, even for this promising young man: upon graduating, he secured a job as a travelling salesman for a tourist souvenir wholesaler, working at popular destinations along the Welsh coast. He himself looks back on the period as "the lowest point in my life". He didn't give up and resolved to persist in finance, as it became clear that he wasn't cut out for retail. "I had a variety of jobs and I ended up selling fancy goods on the sea side, souvenir shops, and I thought, that's really not what I was cut out to do.  So, I wrote to every managing director in every merchant bank in London, got just one or two replies, and eventually that's how I got a job in a merchant bank.
Soros landed his first job at the London merchant bank Singer & Friedlander. Two years later he moved to the United States, where he could count on his specialisation in European markets. It was during this decade that Soros reflected on Popper's theory of reflexivity and succeeded in applying it to financial markets. In 1969 he founded the hedge fund Double Eagle together with Jim Rogers, with an investor capital of four million dollars and 250 thousand of his very own dollars: the first brick in the wall of his fortune, the foundation of the Quantum Fund. In 2013 alone, the hedge fund generated a staggering 5.5 billion dollars, making the the most successful of all time. Since 1973 it has generated a truly impressive 40 billion dollars.
From finance to philanthropy
Open Society was the target of a hacking operation in 2016, resulting in the disclosure and uploading of thousands of sensitive files containing information on businesses managed or funded by Soros. Soros was accused of piloting electoral campaigns, humanitarian foundations and revolutions over the last 25 years. Live on CNN, George Soros actually admitted to funding the Maidan Square colour revolution in Ukraine, in order to "favour a United States friendly government". He also admitted to operating in a similar manner during revolutions which swept through Georgia, Kyrgyzstan, Myanmar and Iran.
Interpretations and conspiracy theories all stop short before a single, objective fact: Soros' gradual disengagement from finance as of October 2017, when he transferred 18 billion dollars to his Open Society Foundation, turning it into the USA's second-largest philanthropic organisation, after the Bill and Melinda Gates Foundation.