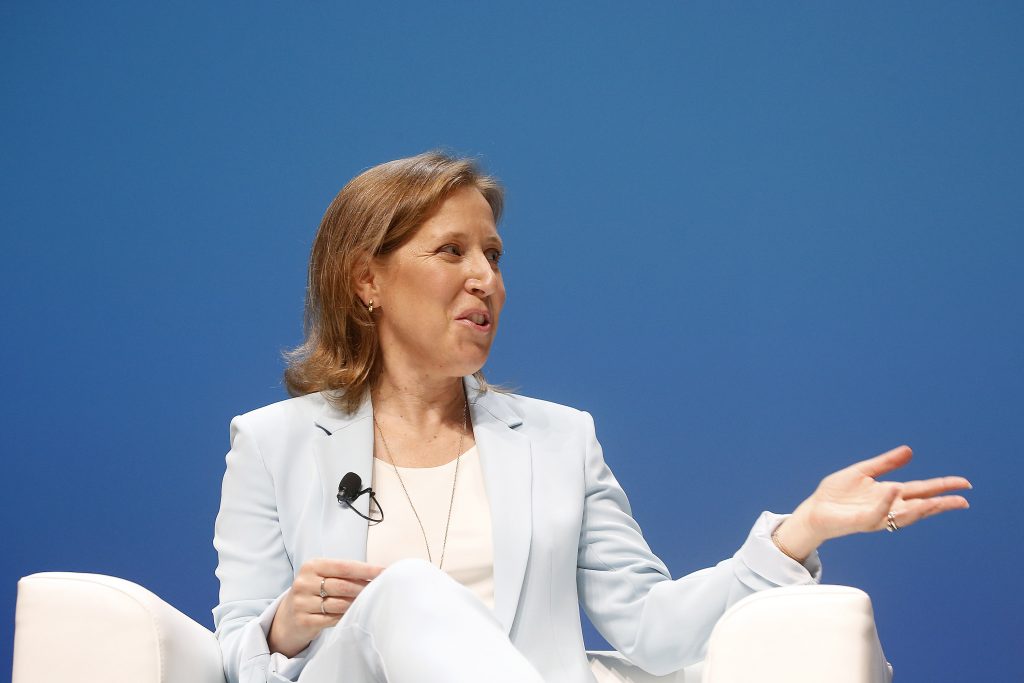 The name won't mean much to those not in the know, but Susan Wojcicki is the woman in charge of the most popular video sharing platform in the world: YouTube. With a long career in the upper echelons of Google also under her belt, Wojcicki is not just one of the few female leaders in the web industry – she helped build the thing. And like all Californian start-up tales, hers starts from humble origins.
Opportunities arrive when you least expect them
Wojcicki didn't study the subjects you'd expect from a tech nerd or marketing expert: she preferred history and literature to mathematics and economics during her time at Harvard. Her parents instilled in her a love for studying: her father was the head of the Physics Department at Stanford University and her mother a teacher at Palo Alto High School. Yet it was an IT exam that opened her eyes to what was happening in Silicon Valley. She decided to study for a Master's in Economics and an MBA at the University of California, before taking her first steps in the world of work, specialising in marketing at Intel and Bain & Company.
The turning point didn't come as a result of her academic prowess, however. Wojcicki decided to buy a villa in Menlo Park, in the Bay Area of San Francisco. To help with the mortgage payments, in 1998 she decided to rent out her garage to two techy friends who were looking for some basic headquarters. Their names? Larry Page and Sergey Brin, the inventors of Google. A year later – while Wojcicki was fourth months pregnant – she became the 16th employee of the then-small web company. From that moment forth, she played a key role in its growth. In a lecture to students of John Hopkins University, she would later sum up the importance of those years: "Life doesn't offer you the perfect opportunity at the perfect time. Opportunities come when you least expect them… Rarely are opportunities presented to you in a perfect way. In a nice little box with a yellow bow on top. 'Here, open it, it's perfect. You'll love it.' Opportunities – the good ones – are messy, confusing and hard to recognize. They're risky. They challenge you. But things happen so fast because our world is changing so much, you have to make decisions without perfect information. You have to make decisions based on the fact that the world is going to continue to change — on the belief that the status quo will be supplanted by something better."
Countless successes and five children
At Google, Wojcicki instantly focused on developing the business. She is credited with a whole host of bright ideas, but perhaps her best one was to modify the logo of the company to mark anniversaries and events. That's right, Wojcicki was the brain behind Google's famous doodle. In 2003, she brought in AdSense, to increase advertising revenue. And she also oversaw the design and implementation of AdWords, DoubleClick and Analytics.
When Wojcicki started to get involved in Google Video, in 2006, she had the foresight to identify the potential of YouTube and suggest that Google acquire the company: it did, in an operation that clocked in at $1.65 billion. This was the first step on Wojcicki's way to becoming the CEO in 2014. She's now part of the so-called L-Team (the small group of directors which oversees the company's key sectors and reports directly to Larry Page) and has overseen the launch of new services such as YouTube Music and Premium.
Under her stewardship, the platform has grown in value to something like $90 billion, while Wojcicki herself has become the seventh most powerful woman in the world. No less important is her tireless advocacy work in support of the rights of working mothers and the fight against the gender gap in the tech sector. She was, for example, responsible for increasing the number of women recruited by YouTube, and her five children prove that it is possible to have a top-level career while juggling a family. "If women do not participate in technology, they lose the possibility to influence the biggest economic and social change of this century," is one of her most powerful quotes.