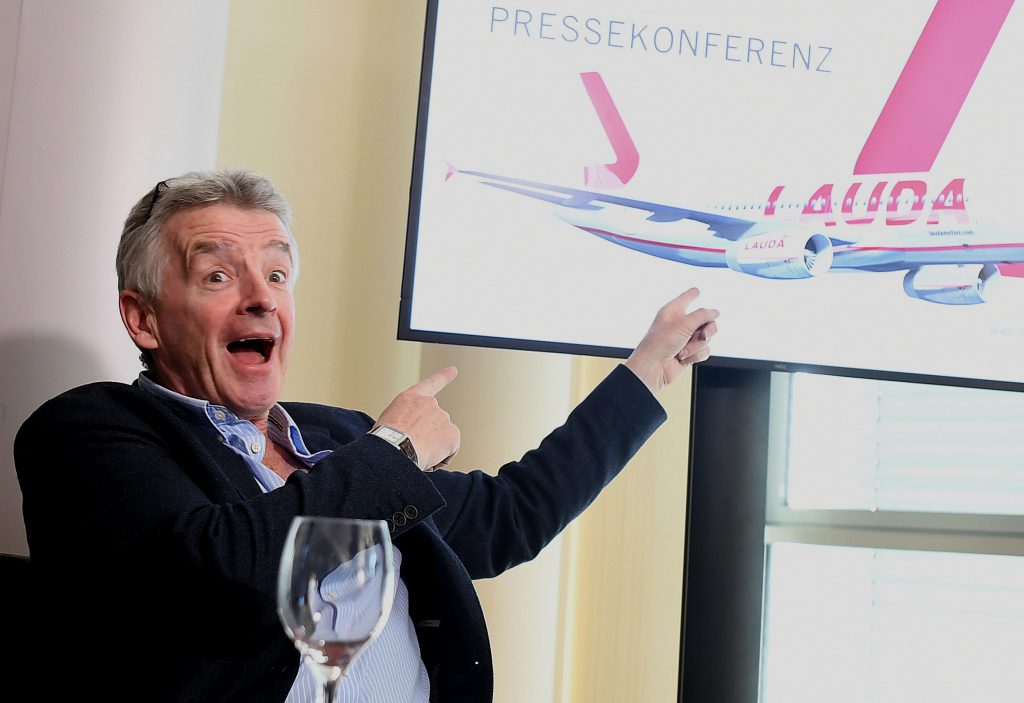 Michael O'Leary has spent the last 25 years challenging opinions and changing habits. As CEO of Ryanair, O'Leary has never shied away from sharing his very original approach to business. "People say the customer is always right, but you know what – they're not," he once said. "Sometimes they are wrong and they need to be told so."
From newsagent to businessman
Born Kanturk, a town to the southwest of Dublin in the Republic of Ireland, O'Leary was the second of six children born to his entrepreneur father and housewife mother. He didn't excel at school, but did go on to get an Economics degree from the prestigious Trinity College. From an early age, he learned to manage his pocket money well and would always earn a little extra by doing odd jobs like working in his uncle's bar.
His first foray into the world of business, in the early 1980s, was nothing special, working as an accountant in a large company. But it was during this rather uninspiring spell that he had the chance to meet the businessman Tony Ryan, the head of Guinness Peat Aviation (GPA), which was in the business of leasing aircraft to flag carriers. O'Leary impressed Ryan by offering a few carefully thought-out pieces of advice on how to make tax savings, but that was as far as their working relationship went – for now.
O'Leary decided to quit his job and go it alone, moving away from accountancy in favour of newsagents. It was a period that taught him a great deal. "I opened at seven in the morning and closed at 11 at night: that's how I learned how to run a business," he later explained. The results spoke for themselves: €250,000 in takings in just three years.
Bolstered by the experience, O'Leary plucked up the courage to search out Ryan, who by then had launched his own airline to rival the Irish flag carrier: Ryanair. O'Leary offered to work for no salary, asking only for 5% of the company's annual revenue. His first task was a tricky one: to find out why passenger numbers were increasing yet the airline was continuing to lose money.
The airline's books soon provided the answers: it was spending disproportionate amounts of money on marketing, insurance, pilot salaries and fuel. O'Leary set about swinging his axe wherever money was being spent poorly – and continued this strategy when he became financial director of the airline in 1991. The position gave him the ability to renegotiate the agreement around his remuneration: from then on, he would take a 25% cut if the airline passed the €2.5 million revenue mark.
A different kind of airline
O'Leary then visited the USA to study the model of Southwest Airlines, a low-cost company which flew from secondary airports and only left aircraft stationary on the ground for 30 minutes: a third of the refuelling time of other airlines.
Impressed by what he'd seen in America, O'Leary returned to Ireland and revolutionised the way Ryanair flew. In order to save on landing fees, he negotiated with regional airports. To make the check-in process as quick as possible, he did away with assigned seating for passengers and brought in charges for baggage (both hand baggage and hold baggage). He made it possible to make a booking the day before a flight in order to ramp up sales, and to ensure the airline turned a profit – despite the rock-bottom ticket prices – he struck deals with online gaming and shopping companies, car hire providers and hotel booking sites. And all this happened against a backdrop of tariff deregulation in Europe.
Ryanair ceased to be an airline specialising in flights between Ireland and the UK and instead became a continental player. Despite fines, strong-arm tactics to quell the protests of pilots against excessive shifts and low salaries, passenger criticism at increasingly tight constraints and results that haven't always been positive, Mr Ryanair has undoubtedly succeeded in changing the way millions of Europeans travel. It might have come at the cost of comfort, but it's meant that many more people can travel and discover new places.